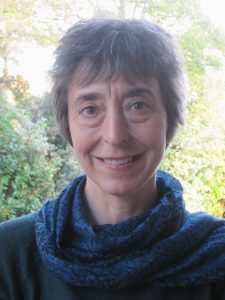 Psychotherapist, Counsellor & Supervisor
MSc UKCP MBACP
Supervision for Trainee and Qualified Counsellors
I have supervised counsellors since 2001 firstly with volunteer Bereavement counsellors and since 2012 in private practice with trainees and qualified counsellors.
I want to hold a therapeutic and supervision space in which it is completely acceptable for us 'not to know'; for us to be genuinely open and enquiring. I encourage supervisees to explore both their personal and clinical emotional processes within a supportive and non-judgemental relationship.
I believe that acknowledging our vulnerability, confusion, mistakes, and successes, are a crucial part of learning and growing awareness of relational processes in clinical and personal environments. I also support supervisees' practice by offering exploration of the theoretical background to their clinical experience, so that experience is linked with understanding. I have a great interest in the correlation between body based awareness and emotional processes, in creative expression, dream work, and spiritual exploration. I am open to any supervisee wishing to explore their clinical relationships in this way.
As a supervisor for counsellors working in agencies I have regard for the relationship with the organisation. We can explore how the emotional and organisational environment impacts supervisees and their clients.
Person-Centred Supervision
Here are some aspects of Person-Centred supervision which I feel are important.
Person-centred supervision is based on the understanding that each of us has an innate wisdom and that we are motivated towards increased well being and overall health (even when our behaviour appears contrary to this). I am very interested in how you make sense of your relationships with your clients and yourself.
The Person-Centred supervision relationship is collaborative, mutual and highly respectful. I hold in mind that each of us is learning as we work together, and that the most effective learning takes place in an atmosphere of acceptance, support, warmth and curiosity. I hope to enable supervisees to be open to new perspectives and to feel safe enough to challenge all their assumptions and constructs about themselves and in their clinical work.
The supervision relationship intends to of encourage growth in self-valuing.