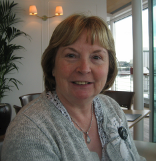 Qualifications
BACP Accredited Counsellor
EMDR Europe Approved Practitioner
Couple Counsellor
Counsellor Supervisor
I am a trained counsellor and counselling supervisor of many years experience. I have worked in the Voluntary Sector and for the last 10 years for the NHS where I was Lead Counsellor for several years. I am also a trained Couple Counsellor and EMDR Therapist (Eye Movement, Desensitisation and Reprocessing). EMDR is a treatment for Trauma and Post Traumatic Stress Disorder.
I have experience of working with a range of psychological and mental health problems and with difficulties with everyday life. My approach is Integrative using my skills and knowledge to help each client as an individual. My main theoretical bases are Person-centred counselling and Psychodynamic Counselling.
I am trained to work with Interpreters for clients whose first language is not English and with Interpreters for the Deaf.
I am a Counselling Supervisor and have experience working with students, post- qualified counsellors and experienced counsellors.
Counselling offers you an opportunity to talk about things that are worrying or upsetting you. It offers you a safe place to talk and be yourself, knowing that you will not be judged or told what to do. A Counsellor will work with you to understand your problems, thoughts and feelings and to explore the possibility of making changes in your life that will put you back in control. Sometimes a new perspective on your difficulties that you may not have thought of can make you feel better.
EMDR is a treatment for Trauma of all kinds and Post Traumatic Stress Disorder. Using your own eye movements it desensitises the trauma and reprocesses it into a normal memory. This will be explained in more detail at your first appointment.
I have particular experience with:
Stress including work related stress
Bereavement (this includes loss of any kind not only death e.g. redundancy, illness, divorce)
Lack of confidence and low self esteem
Anxiety and Panic
Feeling low or depressed
Attachment
Abuse and/or Rape
Relationship difficulties
Any emotional problems
Availability:
I am available on Mondays and Tuesdays.
Fees:
Individuals £45
Couples and Supervision £50
EMDR prices on application