My name is Claire and I offer face to face counselling for individuals.
I aim to offer you a safe space in which you can explore the issues which have brought you to counselling. I offer a confidential service in a safe and respectful environment where you are free to speak openly.
I am a qualified Counsellor with experience of working as a senior manager within mental health services. I am a registered member of the British Association for Counselling & Psychotherapy (BACP) and practice to the standards set within the organisations ethical framework.
My training and approach is integrative which incorporates select therapeutic models; person centred therapy, Cognitive Behavioural Therapy and Solution Focused Therapy. I believe this provides me with the ability to work with clients flexibly in a way which best suits them.
I believe that counselling can provide a space for difficulties to be shared and discussed which allows us to gain a wider perspective and develop alternative ways of responding to and dealing with difficulties. I understand that some emotions can be difficult to experience and often work with clients to help strengthen their understanding and tolerance of such feelings whilst accepting what they can and cannot change.
Although I have worked with clients on a range of issues I have developed particular experience in working with certain areas of difficulty these include;
Eating disorders/body image –My counselling background began within eating disorder support and as a result I have worked with men, women and young people experiencing a range of food and body image issues to help them in moving towards a more helpful relationship with food, their bodies and themselves. I know that moving away from problems can be difficult, this is particularly true for eating disorders and I understand that people may often be in two minds about tackling the issue. I aim to provide a space where we can explore this and look at ways at increasing your motivation to move forward.
Relationship difficulties for men and women- This may be a relationship with a partner, family member or problems linked to around forming and maintaining relationships or friendships. Work in this area has included supporting clients who are affected by a difficult relationship or help in understanding underlying issues and patterns of behaviour which may be affecting specific relationships.
Low self-esteem – What we think about ourselves and how we think others view us can have a huge impact upon our lives and how we treat ourselves. I have supported clients to address problems with their self-esteem and assertiveness to aid them in moving towards having a stronger more assured sense of self and self-confidence.
Other areas support can be provided for;
Anxiety / phobias
Stress
Abuse
Childhood trauma
Low mood depression
Work related issues
Exercise compulsion
Young people
Training: HE Dip Counselling Sheffield Hallam University 2008, BA Hons Health and Social Care Management.
Session rate £45.00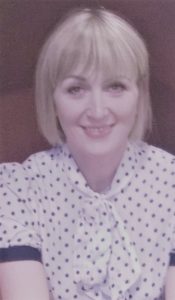 Current Availability
Wednesday evening