UKCP Accredited and Registered (since 1995)
MA Psychotherapy and Counselling
Post Graduate Diploma in Clinical Supervision
M.Soc.Sci. Cultural Studies
BA(Hons) Sociology
Regular ongoing CPD training and study in a variety of therapeutic approaches throughout my career.  (Previous career in publishing and journalism).
What can you expect from our work together?
Counselling and therapy offer people a space to talk, to be listened to attentively, with respect and without judgement, to be helped to make sense of the confusion and complexity and to find ways to move on from stuck patterns which cause distress.
Whatever you wish to bring and to explore, we can discuss together how best to move forward. I am a warm, empathic and approachable person and will encourage you to engage in the process at your own pace – whether that is in short term or longer term work.
My initial training was in Psychodynamic and Existential Psychotherapy and I have regularly studied and trained in other approaches as part of my continuing professional development though the years. I work in an integrative way, which means I can be flexible, drawing on different approaches, depending on your needs. It also means I can help you to become more comfortable with the different parts of yourself – in this way experiencing a greater sense of internal 'integration'. My aim will be to support you to discover greater self awareness and resourcefulness in your life, to reach an acceptance of the past and to move on from difficult and painful experiences.
I pay particular attention to the relationship between us as trust and openness are central to the therapeutic process. I sometimes use visualisation, imagination and dreams to explore deeper unconscious processes if you are comfortable with this. I offer insights into how childhood experiences may have affected you, but equally, I offer an existential perspective, which views pain and suffering as an inevitable and meaningful part of our journey towards understanding and self knowledge. Each of us will experience distressing life crises at some point. I believe that these painful transitions are potentially times of growth.
Experience:
I've been working as a psychotherapist and counsellor for over twenty five years in a number of different settings. This experience includes setting up and managing several counselling services – in a citywide NHS sexual health service, as well as within educational settings. I have also worked in several university counselling services and within the voluntary sector, including a sexual abuse and trauma service for women.
My clients have been as diverse as the places I have worked – ranging from young people (16-25 years), to adults and older people – and have brought with them a variety of different issues (see below). Some people have come with mental health diagnoses, some have simply been struggling with the stresses of everyday life, others have suffered a recent trauma or have decided to address longstanding behavioural and emotional patterns which are no longer useful to them but seem hard to escape.
I have worked with people affected by a wide range of issues such as:
the impact of abuse or trauma in childhood or later in life
grief and loss
particular challenges of adolescence
self harm
relationship and family concerns
struggles with self esteem and body image
depression and anxiety
attachment issues
inner conflict
gender, sexuality and other identity issues
psychosexual problems
pregnancy – unplanned and planned
menopause
In addition to my work with clients, I am a trained and experienced clinical supervisor and offer supervision to both group and individual trainee counsellors of various modalities, to therapists and counsellors working towards accreditation and to fully qualified and experienced practitioners.
I'm available on Monday and Tuesday mornings and Thursday morning, afternoon and evening.
Fees
I charge £60 for each 50 minute session but may be able to offer a lower fee if your income is limited.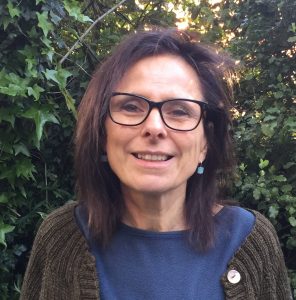 Current Availability
Monday morning
Tuesday morning
Thursday morning
Thursday afternoon
Thursday evening