BA (Hons) in Professional Development in Counselling.
Diploma in Counselling at Sheffield Hallam University (2004)
Certificate in CBT
Certificate in Clinical Supervision
Accredited and registered member of British Association of Counselling and Psychotherapy (BACP)
DBS Checked (Criminal Records Bureau)
My name is Nicola and I am a warm, empathetic person and as a therapist I am committed to supporting my clients. I am a qualified psychotherapist with over 16 years experience of working with anxiety and people who have experienced trauma. I understand how trauma affects us and brings about distressing coping mechanisms. I work to help you understand how to navigate our nervous systems when confronted with traumatic events.
I work at Cornerstone Counselling and Therapy Centre as a Therapist and Centre Co-ordinator. I began work as a counsellor at Sheffield Rape and Sexual Abuse Service in 2011 and continue in my current role as Assessment Counsellor. I also work as a supervisor – please see the Supervisor page on this site for more information.
Much of my training and experience is of working with Trauma, Disssociative Issue, OCD, Eating Disorders and with clients who experience Psycho-somatic (body) pain such as M.E and Fibromyalgia.
I have previously worked as a Therapist at South Yorkshire Eating Disorders for many years and Together Women Project and currently with The Snowdrop Project.
I have experience and training in various approaches such as CBT and Psychosynthesis which can be helpful in understanding the different parts of us. Particularly helpful if someone is struggling to understand why they act the way they do especially if their behaviour is self destructive or parts of themselves are in conflict.
From receiving counselling myself I know how difficult it is to approach a counsellor and understand much of the anxiety that goes along with meeting for the first time. I am mindful of this and try as much as possible to help my clients feel at ease during the session.
I truly believe that counselling provides an opportunity for clients to progress towards a more connected way of life.
Issues I have experience with:
Anxiety
Depression
Trauma/PTSD
Eating disorders
Personality Disorders
Negative thoughts feelings and behaviours.
Obsessive Compulsive Disorder.
Self Harm
Sexual & Physical abuse
Rape
Suicidal thoughts
Trust & jealousy issues
Sex Addiction
Attachment Issues
Psycho-somatic Issues (body pain)
What Happens Next?
I believe that a good strong therapeutic relationship is vital to the counselling process and that everyone is unique.
It might be helpful for us to speak before we book an appointment if you wish to or you can call or email to make a mutual assessment appointment.
I will try to be as flexible as possible in order for appointment times to be convenient and consistent. I have daytime and evening appointments.
How do I pay?
I charge £70 per session. Payment by BACS required.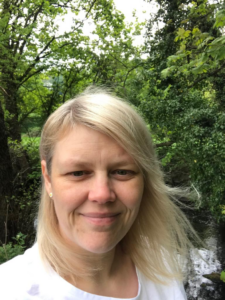 Current Availability
Monday afternoon
Monday evening
Wednesday afternoon
Wednesday evening
Thursday afternoon
Thursday evening